On this hallowed day when we pay homage to the IRS, I have a communique from the heart. I want to tell you about my friend Paul Sweas. His life is a metaphor of everything God is trying to teach me. A living metaphor.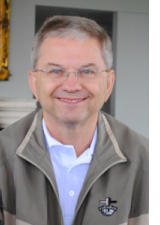 I met Paul on Open Line in the 1980s, I believe. He would appear with us each year at tax time and answer questions. There were some pretty wild questions from all over the country and I don't think we ever stumped him. He had a placid, even-keeled demeanor, the kind of personality you want in a pilot or financial planner. One who isn't undone by some crisis.
Once, a caller had sold a trailer for somewhere around $5,000 and didn't know how to compute her taxes. Afterward we talked about the disparity—how some people who called had hundreds of thousands to invest while this woman had very little. Paul spoke with her as if she were Warren Buffet. There was no difference to him.
Paul was good at sports and was always in shape. He got excited about the Bulls and watching Michael Jordan or the NCAA tournament, and I discovered he threw out the first pitch at a White Sox game. The only time I ever took my girls to a White Sox game was because of Paul. Even had a parking pass down near the old Comiskey home plate.
He loved sports, but the thing that got him most excited, made his eyes light up, was working for the Kingdom. I know he respected Larry Burkett a lot and learned much from him. Many seasoned believers spoke into his life and he loved Moody Radio and had a vision for its outreach.
Paul was so kind to our family through the years. I know there were many single moms whose taxes he completed for little or no payment. I don't think I've ever met a more genuinely humble and caring man. A great smile you could see coming a mile away.
Paul was born on February 9, 1953, just before tax season. He passed from this life on March 23, 2012. The loss of Paul makes me long for a time when we won't ever lose again. He lived the reality that life is a vapor and this world is only a dress rehearsal for what's to come. I'm so proud to have known him and I want to be there when all the Paul Sweas stories are rehearsed in heaven. Knowing him, he'll deflect the praise and glory to his Savior.
If you want to hear more about his life you can go to this website.
Paul handled lots of money for lots of people, but he knew the greatest thing you can do is give. He lived his life in an open-handed way, submitting each decision to God.
I wanted to share a little about Paul in this edition of the FABRYGRAM. Thanks for indulging me.