Lessons from the Road

I don't like crying on the radio. It ruins my mascara. But I couldn't help it on 5/4/2012 when I spoke about lessons from a trip I took with my son, Reagan. I won't go into all of the details here, but I had a unique view of God at work in his life and mine.
We took a trip to Los Angeles, about an 8-hour drive, stayed overnight, went to the Huntington Library the next day—I saw an actual Gutenberg Bible—and then took in the Coldplay concert at the Hollywood Bowl. It was his 16th birthday present.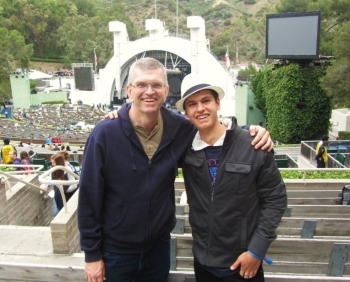 After the concert, Reagan asked what I liked the most. I said it was watching him experience the whole thing. He was so excited to see them play the songs that have become such a part of his life.
I couldn't help but see the parallel of God as he watches his children go through the good and bad. He's overjoyed to give us good things. He's also willing to let us go through bad things so that we can ultimately give him glory.
I imagine God was having a good time watching me take in that 500-year-old Bible in the middle of Babylon the same way I was watching Reagan smile and sing through "Every Teardrop Is a Waterfall."
A New Beginning

It came to me again on that trip, as it has several times in the last few months. Do what you're called to do. Don't worry. Don't fret about the future. Stop comparing. Just do what God wants and let him take care of things. Surrender.
This week I'm going to do that. I'll begin a new story, a new novel. The beginning is always daunting because there's such a long way to go. So many choices. This book is one of my most challenging and will probably take about six months if everything comes together well.
I don't like to give away too much of the story line, but the main character is a misfit young woman with a huge life hurdle ahead. Her name is Treha (pronounced TREY uh). She is what I term a "Geezer Whisperer." She is able to talk with older people, those society has thrown away, and pull stories from them. It's the gift she's been given. I think you'll cheer for her the same way you may have cheered for June Bug.
I could use your help in the next few weeks/months. There are many more pressing things you could pray for, but if you think of Treha and me, would you ask God to give me insight I don't have and skill and craftsmanship to help this story break through hearts?
On the day you remember to pray, would you Facebook or Tweet or email one word: Treha. I'll know what it means even if others don't.
Thank You!
Thanks for caring and being on my team. Remember, do what you're called to do today. Surrender. Live with abandon. And may God use us for his glory.