A Month-Long Fast

I've just completed a month-long fast. Before you look at my latest picture to see if I look haggard and ill-fed, don't. It wasn't that kind of fast.
I've been sensing something in my heart about my writing. Discouragement. Discontent. And part of that comes from me looking at the sales rankings of my books on Amazon.com. So, at the end of April, I decided not to look at the rankings for Not in the Heart for 30 days.
The first few were hard. There's something about seeing a number attached to your idea, your baby, that draws you in, that makes you want your creation to climb higher. But there's also the disappointment of seeing your little bundle of joy fall like a stone.
My success is not dependent on Amazon.com sales, but I erroneously think that's the best way for me to assess it. If it's doing well, if people are saying good things, I'm okay, I'm validated. I can keep on writing. If no one is buying or if I get critical reviews, I'm a failure.
The last 30 days have provided a measure of creative freedom. I still read emails from people who have read my books and have questions or kudos. I'm particularly pleased that many have written to say that Not in the Heart has given them a new vision for the "Truman" in their life.
But I don't have to be a hostage to the rankings. God can do what he wants with my stories, my characters, my plots, and with me. Surrender is a daily task you can't calculate on Amazon.com.
Giveaway Contest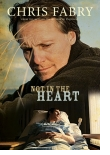 If you haven't read Not in the Heart (and even if you have), you might enjoy taking the quiz to win a free autographed copy. Visit our Contest Page to give it a try. The answers are contained in the videos we recently posted on YouTube and Facebook. (And by the way, this is my daughter's room, so the books and the ballerina are hers.)
I'm hoping this summer you'll find some time to get into a good story or two, ones that will move you and help you see yourself. Thanks for your support and interest.