Why I Love Writing

I have a great job. I get to talk on the radio. From my house. And reach people from New York City to South Africa. And the feedback is immediate. They call, they email, they're happy, sad, mad, glad, and energized.
Writing stories is also a great job, but the feedback is more delayed. You sit in a small room each day for several months and poke and prod at a handful of imaginary people until they come alive on the page, the screen. And then other people look at your imaginary people and make suggestions and you trim and rewrite and the process takes a few more months. Then your story is published and you sit and wait and wonder.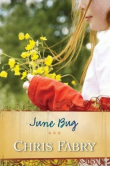 I wrote a book titled June Bug in 2008. I waited four years to get the email that came the other day. We did a radio program on the book that caused you to weep, the scene that made you put the book down because you were overcome. Here is what the emailer said:
"The most recent book I had to stop over was June Bug by Chris Fabry. I was reading the last few pages at the table one Saturday afternoon and when I got to the line where he talked about June Bug reaching out with her fingers and wondering if 'Daddy' was reaching out for her too, I just lost it and had to put the book down for a few minutes because I couldn't make sense of the last couple of paragraphs (due to my tears).
"My 13-year-old daughter laughed and asked if I was okay. She had also read the book and asked if it was because of the ending, to which I could only nod because I was trying not to sob!
"Having a daughter myself and a husband/daddy who has gone through a pretty severe illness in which we have several times been afraid of losing him, it hit a spot that was very sensitive at that particular moment. That sense of great longing she had for 'Daddy' that kept on even after 'Daddy' had to go away was portrayed so artfully in that one sentence. Great book Chris, but a difficult one to handle at the end! (Which of course makes it a book that one remembers!)"
This is why I love writing. The feedback may be delayed, but when a story gets into your soul, you have to respond.
Special Offer on Autographed Books

For Christmas, I'm offering a special on any of my adult fiction:
Any 3 books for $30,
free shipping.
Six titles to choose from! You can buy the same three titles or mix and match, and I'll sign them however you'd like. Visit my Online Shop to order today! Thanks for your support and I hope this will be a great holiday season for you and your family.