Introducing Treha

This is a special weekend for me. A child of mine is making a big leap, of sorts. Not my biological child, my literary offspring. Let me explain.
My vision of her was that she was a misfit. Marginalized. Growing up, she was on the outskirts of the crowd. She was "different." People called her "special," but she didn't feel special, she felt weird. But there was nothing she could do about it.
Ever feel that way?
This has been Treha's life. (Pronounced: TRAY-uh.) She rides her bicycle to her job at Desert Gardens Retirement Home in Tucson, AZ. She's a janitor there. Her friends are the old people who live there. And one doctor has taken a special interest in her for reasons that she doesn't know. He knows a lot more than he's letting on.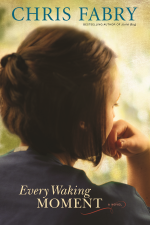 Every Waking Moment is Treha's story. The burning question in her soul is about her past. She wants to know why she is the way she is. But even deeper is this question:
If this is as good as my life gets, am I okay with that?
It's the same question each character has hanging over their lives in the book. It's probably, to some extent, the same question you're asking today. With this circumstance, illness, job, no job, relationship—if my life progresses no further toward what I WANT, am I okay with that? Can I live with it? Do things have to get better?
Treha's gift is to call people back from dementia and Alzheimer's. People who have been "gone" for a while return after meeting her and receiving a touch from her. If you want to see something eerie, watch this video we found shortly after I had completed the manuscript.
I hope you'll read and enjoy Every Waking Moment. Tell others that Treha is on the move around the country. I pray she will move hearts and encourage each person who reads about her life.