Near-Life Experiences

I've heard so many stories about near-death experiences. People who miraculously escape or who die and return to describe what they saw.
I saw a 2013 Ford Edge coming toward me and it wasn't slowing down. I knew this wasn't going to be pretty. But I didn't know how much life the collision would bring.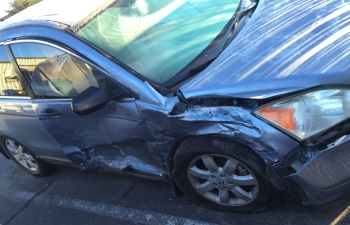 I won't describe the whole situation—you've heard these tales far too often. But I will describe the moment when I was sitting alone in the car with someone taking my daughter to the side of the road. The air was filled with that airbag dust and there was a man from a white truck by the door, trying to get it open, yelling something about a fire.
I just sat there in a daze, taking stock of any injuries I might not see or feel given the jolt of adrenaline I'd just received. I had screamed, Kaitlyn had screamed, and then I felt the brush of angel wings or the explosion of the airbags, or both.
I think there are near-death experiences. But I've been reflecting the past few days on near-life experiences. These are times when you're given the opportunity to run head-long toward life but because of fear or pride or the schedule you don't take advantage of it.
I imagine some working guy in the first century, tending his flocks or crafting something from wood. A neighbor walks up. "Have you heard about this new teacher? They say he's headed to town tomorrow."
"I'm busy."
I think God interrupts our days with near-life experiences that we push away and squander. Jesus said he came to give life and give it abundantly. And I've always felt that somehow meant he came to give us the "good life" and have defined that with smiling faces, a fat bank account, and cars that aren't totaled.
But today as my bruises heal and my emotions are somewhat less shaken than a week and a half ago, I think maybe Jesus came to give me life in the middle of the accident and the conversations with the insurance guy—whose name happens to be Jesus. He pronounces it differently, but still...
I believe Life, abundant Life, is a lot closer than we think. And I believe it's found in the middle of some unpleasant circumstances.
I wanted to share that with you today. Thanks for your prayers and kindness, for those who have heard of this event.
Grateful for Life,