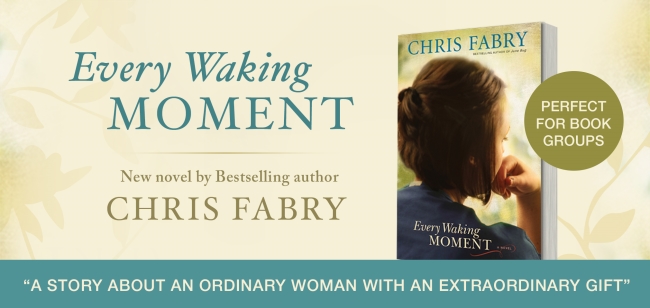 Treha Langsam is a mysterious young woman who has fallen through the cracks, much like many of the elderly people she works with at Desert Gardens Retirement Home. But Miriam Howard, director of the facility, sees her extraordinary gift: Treha is a whisperer of sorts, calling those who have slipped into dementia back to a life of vibrant, if only temporary, clarity. Read More
"I haven't read anything so riveting and unforgettable since Redeeming Love by Francine Rivers. Fabry has penned a remarkable love story, one that's filled with sacrifice, hope, and forgiveness!"
— NOVEL REVIEWS on June Bug
"Fabry has a true gift for prose, and [Almost Heaven] is amazing. You'll most definitely want to move this to the top of your 'to buy' list."
— ROMANTIC TIMES, 4½-Star Top Pick Review
"Not in the Heart is the best book I have read in a long time. The plot is unique and creative, containing both ethical and moral dilemmas. . . . It challenges not only the readers' emotions but also their minds."
— READERVIEWS.COM
"In this suspense-filled drama, Fabry covers hot topics involving illegal immigration policies, drug running between borders, and the cost of being involved with the mob. . . . Readers will be immersed in the lives of Maria and J. D."
— ROMANTIC TIMES, 4-Star Review of Borders of the Heart

"Dogwood will captivate you from cover to cover."
— READERVIEWS.COM
"Solidly literary fiction with deep, flawed characters and beautiful prose, Dogwood also contains a mystery within the story that adds tension and a deepening plot."
— NOVEL REVIEWS
"A mesmerizing tale . . . [Almost Heaven] will surprise readers in the best possible way; plot twists unfold and unexpected character transformations occur throughout this tender story."
— PUBLISHERS WEEKLY
"[June Bug] is a stunning success, and readers will find themselves responding with enthusiastic inner applause."
— PUBLISHERS WEEKLY
"An involving novel with enough plot twists and dramatic tension to keep readers turning the pages."
— BOOKLIST on June Bug

"Ultimately a story of love and forgiveness, [Dogwood] should appeal to a wide audience."


— CBA RETAILERS + RESOURCES
"In this edge-of-your-seat romantic suspense, all of the characters ring true."


— BOOKLIST on Borders of the Heart

"This absorbing novel should further boost Fabry's reputation as one of the most talented authors in Christian fiction."
— CBA RETAILERS + RESOURCES on Not in the Heart

"A conflicted, memorable main character. . . . While the mystery at its core is compelling, it's Wiley's inner conflict that's truly engrossing. Down to its final pages, [Not in the Heart] is a gripping read."
— CROSSWALK.COM

"Once the story starts cooking, [Dogwood] is difficult to put down, what with Fabry's surprising plot resolution and themes of forgiveness, sacrificial love, and suffering."


— PUBLISHERS WEEKLY
"A book about deep secrets, the effort it takes to heal catastrophic hurts, and a thriller with an excellent plot climax."
— 1340MAGBOOKS.COM on Dogwood
"Fabry has written a nail-biter with plenty of twists and turns to keep readers riveted."


— LIBRARY JOURNAL on Not in the Heart

"Few authors can weave such unique stories with such perfect language. . . . Fabry is an artist with words. All I can say is: Read his novels."
— EXAMINER.COM on June Bug
"Once again, Chris Fabry's brilliance in developing full-fleshed characters within a thrilling, yet poignant and sometimes painful story has captivated my heart and mind."


— FICTIONADDICT.COM on Every Waking Moment
"Engrossing and entertaining . . . [an] unforgettable tale."
— ROMANTIC TIMES on June Bug

"Great Christian novels are more than a story, they leave the reader pondering the state of his or her own heart. Not in the Heart demonstrates God's power to transform the seemingly untransformable."
— TITLETRAKK.COM
"Precise details of places and experiences immediately set you in the story, and the complex, likable characters give June Bug the enduring quality of a classic."
— TITLETRAKK.COM
"Fabry has built a rewarding story; it's hard to imagine inspirational fiction done better than this."
— WORLD MAGAZINE on Not in the Heart

"Every Waking Moment has depth and beauty. I really don't think I could say enough good things about this novel. It's thrilling. It's poignant. It's touching. It's deep. It's beautiful. And it should be read."
— LIFEISSTORY.COM
"A character-driven tale of dignity and compassion for those who seem to have lost importance to society . . . this thought-provoking read challenges the prevailing cultural calculations of the value of a person's life."
— PUBLISHERS WEEKLY on Every Waking Moment

"A captivating story. . . ."
— CHRISTIANBOOKPREVIEWS.COM on June Bug

"Fabry is a talented writer with a lilting flow to his words."


— CROSSWALK.COM on Almost Heaven

'Tis the Season!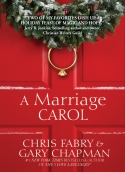 With a nod toward Dickens and a heaping helping of truth from marriage expert Dr. Gary Chapman, this surprising tale will take you through twists and turns and lead you on a journey into the power of a single choice. If your marriage is struggling, if your heart needs rekindling, if you long for unconditional love, this story will bring warmth and hope.
"A joyous, passionate honeymoon of a story perfectly fit for the Christmas season."
— Francine Rivers
Read More about A Marriage Carol
Extraordinary Grace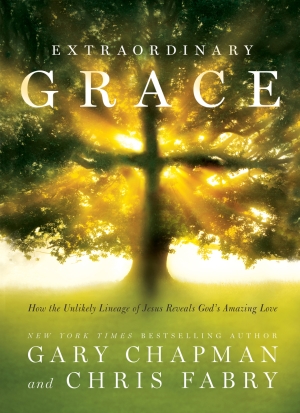 God's extraordinary grace is hard to grasp, but made easier to understand through stories of God's people.
Gary Chapman and Chris Fabry search the Scriptures for examples of God's grace in the lives of those named in Jesus' lineage, but what they find are people with faults, foibles, and sins, just like the rest of us. So obviously, grace is not about doing everything exactly right. It is a gift . . . an astonishing gift given by God.
Read More about Extraordinary Grace