I was minding my own business on a cold day in January, 2009. I had moved into a little pull-along trailer outside of the home we had abandoned because of our toxic mold situation, in order to get my work done. I could see my breath in the camper. I wore a hat to keep the heat in. My wife and most of the family were far away in Arizona as I closed up the shop in Colorado and prepared for . . . well, I didn't know what.
An email came in from Lost Creek, West Virginia. It was from a listener to a local station there that aired my daily radio program, Chris Fabry Live. She said she wouldn't be listening to me that day because the station was off the air. The owner/operator had died the night before.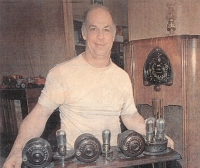 Sometimes you find a great story. Sometimes you hunt for an idea and come up with gold. This time the story found me, and it was recorded on our program that afternoon when we called Carmeleta to talk about the life of Billy Allman. Billy's heart was to bring Christian radio to his little part of the world. Nobody gave him a medal. Not many in the world noticed his passing. His funeral was no doubt small. He lived an insignificant life.
That's what the world thought. But heaven knew otherwise.
Billy's story of sacrifice and struggle stayed with me. That night I told my wife, "I think I have my next story."
My prayer is that this fictionalized account of Billy Allman's life will encourage people who haven't had a break or have never felt the hand of God on their life. That it will help those who are discouraged by their circumstances and feel a lack of purpose and direction. That it will awaken in them a desire to dream again and have the faith to follow that God-given dream, whatever it is.
---
Listen to the segment of Chris Fabry Live that inspired the story of Almost Heaven.
Some people say Billy Allman has a heart of gold. Others say he's a bit odd. The truth is, they're all right. He's a hillbilly genius—a collector, a radio whiz—and he can make the mandolin sing. Though he dreams of making an impact on the world beyond the hills and hollers of Dogwood, West Virginia, things just always seem to go wrong.
But however insignificant Billy's life seems, it has not gone unnoticed. Malachi is an angel sent to observe and protect Billy. Though it's not his dream assignment, Malachi always follows orders. And as Billy's story unfolds, Malachi slowly begins to see the bigger picture—that each step Billy takes is a note added to a beautiful song that will forever change the lives of those who hear it.
---
Almost Heaven, Chris Fabry's third visit to the fictional town of Dogwood, West Virginia, is woven through with many characters from his earlier novels, Dogwood and June Bug, but can also be read and enjoyed as a standalone story. The book received the 2011 Christian Book Award for Fiction and was also named the 2011 Christy Award winner in the Contemporary Standalone category.
"A redemptive story that shows how God uses ordinary, broken people to accomplish His purposes."
— Dr. Wess Stafford, President and CEO, Compassion International


"Fabry, who writes for children and adults, will certainly delight his ever enlarging fan base with this mesmerizing tale about a man whose gifts are clear to anyone interested in seeing past his obvious outer limitations. Billy Allman, gifted intellectually and especially skilled at playing the mandolin, lives his life as an offering to his divine creator. Billy epitomizes humility as he quietly works to build his own radio station with limited resources and against tremendous spiritual opposition. Day by day, year after year, Billy stays the course despite significant losses that follow him through life. Fabry's story will surprise readers in the best possible way; plot twists unfold and unexpected character transformations occur throughout this tender story of a single gentle soul who chooses to live by faith despite hardship, failure, and disappointment."
— Publishers Weekly


"If the sound of a mandolin being tuned, the smell of sausage sizzling, and the sight of a sunset over the Blue Ridge Mountains make your heart sing, you owe it to yourself to experience Christy Award-winner Chris Fabry's novels! Unflinchingly realistic yet ultimately hopeful—and sprinkled with otherworldy insights reminiscent of Screwtape—his latest lyrical West Virginia tale is rich with unforgettable characters and shot through with redemption. A winner!"
— Christine, Fiction Editor, Christian Book Distributors


"The book is a wonderfully entertaining, inspiring, emotional rollercoaster that leaves a haunting tune long after the cover is closed."
— Sharon Mager, BaptistLife, Baptist Convention of Maryland and Delaware


"Almost Heaven by Chris Fabry is an incredibly moving story of redemption and the power of love. Billy Allman goes through some painful times in his life and you just can't help but love him! It's interesting to read the thoughts of Billy's guardian angel as you begin to see how the troubles in Billy's life fit in with God's master plan."
— Susan Choy Lee, Five Star Books and More by the Reading Mom


Download the Discussion Guide for Almost Heaven here: