I was minding my own business on a cold day in January, 2009. I had moved into a little pull-along trailer outside of the home we had abandoned because of our toxic mold situation, in order to get my work done. I could see my breath in the camper. I wore a hat to keep the heat in. My wife and most of the family were far away in Arizona as I closed up the shop in Colorado and prepared for . . . well, I didn't know what.
An email came in from Lost Creek, West Virginia. It was from a listener to a local station there that aired my daily radio program, Chris Fabry Live. She said she wouldn't be listening to me that day because the station was off the air. The owner/operator had died the night before.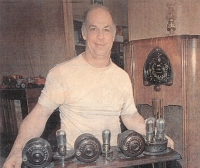 Sometimes you find a great story. Sometimes you hunt for an idea and come up with gold. This time the story found me, and it was recorded on our program that afternoon when we called Carmeleta to talk about the life of Billy Allman. Billy's heart was to bring Christian radio to his little part of the world. Nobody gave him a medal. Not many in the world noticed his passing. His funeral was no doubt small. He lived an insignificant life.
That's what the world thought. But heaven knew otherwise.
Billy's story of sacrifice and struggle stayed with me. That night I told my wife, "I think I have my next story."
My prayer is that this fictionalized account of Billy Allman's life will encourage people who haven't had a break or have never felt the hand of God on their life. That it will help those who are discouraged by their circumstances and feel a lack of purpose and direction. That it will awaken in them a desire to dream again and have the faith to follow that God-given dream, whatever it is.
---
Listen to the segment of Chris Fabry Live that inspired the story of Almost Heaven.